Creating a New Blog
Movable Type 5
You must have "Create Blog" system permissions to create a blog. In addition, you must have "Website Administrator" permissions for the website where you intend to create a blog.
Select [Website] from the navigation
Select [Blogs] > [New] in the Side Menu
Movable Type 4
Creating a new blog is reserved for system administrators. To create a new blog
Choose "Create a new blog" from the blog selection menu.
Enter blog details on the Create Blog screen.
The user who creates a new blog is automatically registered as that blog's administrator. The blog administrator can add users, edit templates and settings, and perform all operations related to the blog.
Note: Once you have created a blog, it must be published before it can be viewed on the server.
After creating a new blog, Movable Type will display th e General Settings screen, where you can specify other optional configuration settings. See Editing a blog's settings for more information.
Blog Settings
Enter all necessary fields for creating your new blog. Be careful deciding which site URL and site paths to use because these are difficult to change later.
Blog Theme
Choose a theme to customize a blog's design. Some themes contain not only templates, but also categories, folders, custom fields, and more. You can change themes at any point.
Blog Name
Your blog name is your blog's primary public identifier. By default, it is displayed across the top of every page of your blog and sent in any TrackBack pings or pings to blog recently updated services.
Blog URL
Set the URL where the blog will be published. Please do not include file names such as index.html. A good example would be:
http://www.example.com/movable_type/
See section below for more information.
Blog Root
This is the base filesystem path under which all of the blog's statically published templates are stored (however, it's also essential for dynamically published blogs). It should be the physical location that corresponds to the directory specified in the Site URL above.
Timezone
This is the time zone in which all or most of the blog's users reside. This setting is mainly used for calculation of the date and time assignment for blog records
Language
Choose a language for the blog. We recommend using the same language as the one specified in Movable Type's DefaultLanguage settings.
Blog URL and Blog Path Settings in Movable Type 5
Usually, you would assign relative paths to the URL and website path you specified on the website, but you can also assign a sub-domain or an absolute path.
Relative path from the website URL and website path.

Sub-domain to the blog URL.

Sub-domain and path at the same time.

Absolute path
Entering an absolute path like ""/" or "C:Â¥" will switch the field to absolute path input mode.

Assign an archive URL and path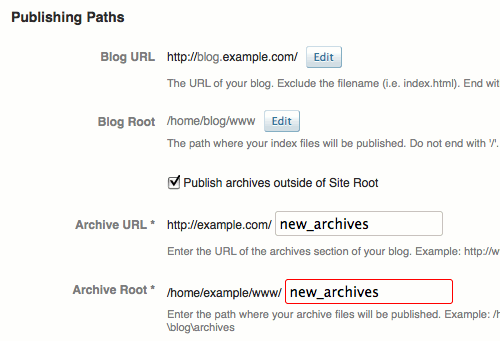 Assign an absolute path for the archive path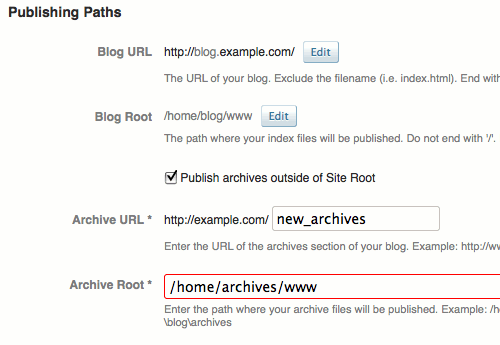 Publish a Blog to a Website's Root Path
You can create a blog directly under the website by specifing the same publish path as the website. Let's assume we have the following publish paths:
"Website URL" http://www.example.com/
"Website Path" /home/example/www
You can also leave Blog URL and Blog Path blank to create a new blog on the website root.
"Blog Site URL" http://www.example.com/
"Blog Site Path" /home/example/www